---
Topics of this page:
colour genetics


body weigth

fertility

sexual maturity

cycle

teats

gestation period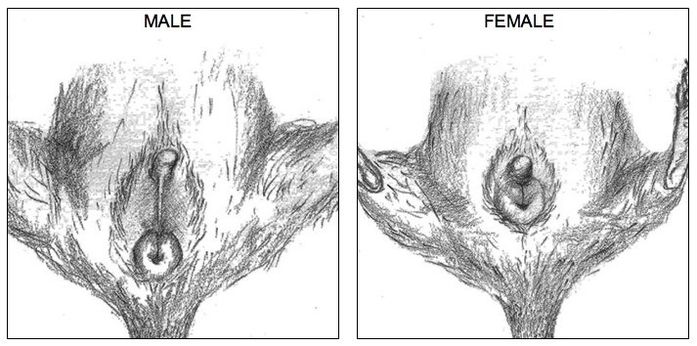 The Mendelian rules describe the inheritance process for characteristics whose expression is determined by a single gene. *update will follow*
Normal weigth adult: 170 - 260 g
Pregnant female: 250 bis 430g, Ø300g
Newborn: 10 – 16 g, Ø13g
my adult males 210 - 230g
my adult females 220 - 240g
Females: approx. 4,5 years, then decline in reproductive rate
Males: lifelong
Female: cycle beginning with a 12 - 16 weeks and approximately 200 g body weight
Male: approximately from 3 months of age
For both sexes: the earliest 46 days , an average of 6 months with
Fertilization -capable age of the female - Minimum
Approximately 6 months, with about 205 g body weight
Not more than 12 months on the first throw , coverage so no later than 9 months . Ossification of the pelvis , the increased risk to get stuck , the baby and the mother died .
Possible for females and males . Male degus change their behavior not i.e. the sexual impulse and / or aggression or dominance remain unchanged.
Opening of the vagina at a distance of 20 to 30 days , remains open over 3 to 21 days. Regular cycle time of 20.5 +/- 0.5 days .
The female has four teats couples , a inguinales and three more lateral , which are arranged on a line between the rear and front legs .
In the wild : a litter in spring ( September , the rainy season , large food supply ) , two litters with sufficient food supply .
In captivity : up to 4 litters , so all year , O2-3 throws. The young are precocial .
Litter size at Degu varies depending on the age of the female and the number of previous litters .
1 - 10 babies , Ø 5 - 6 babie.
Sex ratio at birth is 100 females to 110 males .
Varying between :
Initially eyes closed and only sparse patches of hair .
At birth, your eyes open and fully hairy.
about 4 weeks , at least 2 weeks
Weaning weight : about 60-80 g
Normal food after six to seven days , Ø 2-3 week
With approximately 6 - 8 weeks
At isolation after weaning occurs in degus serious behavioral disorders later expressed in the form of intimidation towards conspecifics and difficult handling by humans.
The sonographic examinations at two pregnant Deguweibchen showed that a positive sonographic diagnosis even on day 20 of gestation with low fetal number and pronounced sound cancellation did not rise through the intestinal tract, although the formation of the amniotic cavity at degus to this period on day 12-14 of gestation takes place and thus had to be sonographically representable also anechogene areas in the uterus. Therefore, follow-up with a negative result for a safe Trächtigkeitsausschluss when Degu strictly necessary. From the 6th week of pregnancy no sonographic pregnancy examination more should be done, it can lead to an interruption. In the current state of knowledge therefore can not be recommended to the sonographic Trächtigkeitsnachweis when Degu for veterinary practice, because on the one hand an early pregnancy can not be reliably detected and possibly a miscarriage can be triggered on the other by the handling of pregnant degus.
Cautious handling of the animals in the last trimester of pregnancy and Note in this context to possible miscarriage.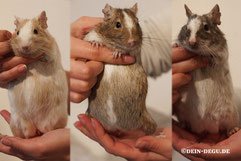 367g (left) at the day of giving birth (5 babies).
294g (middle) 10 days before giving birth. When giving birth 340g (7 babies).
265g (rigth) 9 days before giving birth. When giving birth 290g (4 babies).
The weights listed here are from my experience and may vary quite , as is a sub- Scheid at the litter size , size of the parent animal and age observed. Therefore, they should not be taken as a fixed reference point . Unique numbers I can not call because the weight of the baby is very different , depending on whether there are 3 or 8 babies in a litter .
Newborn ca. 10 - 16g
2. life week ca. 15 - 20g
between 2.-3. life week ca. 30 - 40g
3. life week ca. 35 - 45g
between 3.-4. life week ca. 35 - 45g
4. life week ca. 40 - 60g
between 4.-5. life week ca. 44 - 62g
5. life week ca. 65 - 75g
between 5.-6. life week ca. 75 - 88g
6. life week ca. 70 - 90g
between 6.-7. life week ca. 75 - 100g
7. life week ca. 100 - 120g
between 7.-8. life week ca. 115 - 125g
8. life week ca. 125 - 135g
6. month ca. 180 - 210g
| | | | |
| --- | --- | --- | --- |
| date of birth | age | litter size and proportions | weigth in gram |
| G 17.02.2015 | 5 weeks 5 days | 4 Babys | big | 80-83-83-85 |
|   | 6 weeks 2 days |   | 95-105 |
|   | 7 weeks 5 days |   | 116-126 |
| H 25.02.2015 | 6 weeks 4 days | 4 Babys | normal | 75-84 |
|   | 7 weeks 6 days |   | 102-105 |
| I 27.02.2015 | 4 weeks 2 days |  7 Babys | 3 big, 3 normal, 1 small | 26-39-44-46-47-53-59 |
|   | 6 weeks 2 days |   | 43-63-64-78-82-92-93 |
|   | 7 weeks 3 days |   | 75 / 90-95 |
| J 15.03.2015 | 1 weeks 6 days | 5 Babys | normal | 14-15-15-16-18 |
|   | 3 weeks 4 days |   | 33-41 |
|   | 4 weeks 1 day |   | 39-42-43-45-46 |
| K 26.03.2015 | 2 weeks 3 days | 5 Babys | 2 big, 3 normal | 34-37-38-39-40 |
|   | 3 weeks 5 days |   | 49-55 |
| L 23.08.2015 | 4 days | 3 Babys | big | 17-18-19 |
|   | 1 week |   | 23-23-25 |
|   | 3 weeks 4 days |   | 52-53-56 |
|   | 4 weeks 3 days |   | 66-68-71 |
|   | 7 week |   | 112-114-115 |
| M 22.09.2015 | Newborn | 3 Babys | 2 big, 1 normal | 13-15-16 |
|   | 1 day |   | 15-17-18 |
|   | 6 days |   | 22-24-25 |
|   | 2 weeks 5 days |   | 35-38-41 |
|   | 3 weeks |   | 39-46-49 |
|   | 3 weeks 4 days |   | 51-55-58 |
| N 12.10.2015 | Newborn | 1 Baby | big | 15g |
|   | 6 days |   | 25g |
|   | 2 weeks |   | 32g |
|   | 3 weeks |   | 45g |